Posts for: December, 2014
By Richard Young, DMD, LTD
December 16, 2014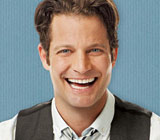 Design expert and television celebrity Nate Berkus has definite ideas about how to live. In a recent interview, he explained his ideas on design. He also talked about health, and how he keeps his teeth and mouth healthy.
From an initial design makeover that he did eight years ago on the Oprah Winfrey Show, Berkus has gone on to do 127 such makeovers. He was such a success that he now hosts his own daily talk show. He has also developed a line of home products for the Home Shopping Network and has his own design firm, Nate Berkus Associates. His clients include well-known restaurants and hotels as well as private homes. He has written articles for O Magazine and authored a book on the subject of transforming your home into a place you love.
"I realized many years ago that I wasn't going on Oprah to pick sofa colors and paint chips. I was there to lift people up through the way they live," he says. His secret to design success is to "go with what you love." He says, "Don't worry about mixing metals, eras or styles. If you love each item, you'll find a way to make it work."
His common sense practical attitude continues when it comes to dental health. Berkus is blessed with a healthy mouth and teeth. He doesn't feel anxious when visiting the dentist because he usually has a good report. He has not needed orthodontics or cosmetic dentistry. He thanks his childhood dentist for giving him fluoride treatments and sealants, and for teaching him healthy dental hygiene habits.
Berkus brushes his teeth twice or even three times a day, with a manual or electric toothbrush — depending on whether he is at home or traveling. He also follows his dentist's advice about flossing: "Floss the ones you want to keep!" He says that he tried tooth whitening once, but he felt that the whiteness was "too white." Now he simply works to maintain his natural tooth color and smile.
Contact us today to schedule an appointment to discuss your questions about maintaining healthy teeth. You can also learn more by reading the Dear Doctor magazine article "Nate Berkus, Helping Others Love the Way They Live."
By Richard Young, DMD, LTD
December 01, 2014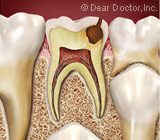 Dentists go to great lengths to save an adult permanent tooth. Even though restoration technology is incredibly advanced, none can completely replace the biological function of natural teeth. Treating a diseased tooth to preserve it is a high priority in dentistry.
It would seem, though, that a child's primary (baby) tooth might not warrant the same treatment. Since the tooth eventually detaches from the jaw to make way for a permanent tooth, why save it?
It is worth the effort, because primary teeth provide more than a chewing function: they also serve as guides for their permanent successors. When they're lost prematurely, the permanent teeth may not come in correctly, leading to a malocclusion (poor bite). Other areas of development, like speech and dental bone growth, may suffer as well from the longer time gap between the premature loss and the permanent tooth eruption.
Saving an infected primary tooth should be considered, especially if significant time remains in its lifespan. Due to differences between primary and permanent teeth, though, the treatment approach isn't the same. For example, the body gradually absorbs the roots of a primary tooth (a process called resorption) as the permanent tooth beneath erupts applying pressure to the primary roots (this is what enables its eventual detachment). Dentists must factor this process into their diagnosis and treatment plan for a primary tooth.
The level of treatment may vary depending on how deep the infection has advanced. If the decay is limited to the tooth's outer layers and only partially affects the pulp, the innermost layer of the tooth, a dentist may remove as much soft decay as possible, apply an antibacterial agent for any remaining hardened infection, and then restore the tooth with filling materials.
For deeper infection, the dentist may remove some or all of the pulp, disinfect and clean the area, and then fill and seal the empty space with a filling. A filling material like zinc oxide/eugenol paste should be used that's capable of resorption by the body to coincide with the natural root resorption. After treatment, the tooth should continue to be monitored for changes in appearance or gum swelling, just in case the infection returns or advances.
Although it may seem counterintuitive, treating a primary tooth as you would its successor is worth the effort. Your child will reap the health benefits, both now and long after the primary tooth is gone.
If you would like more information on endodontic treatment for children, please contact us or schedule an appointment for a consultation. You can also learn more about this topic by reading the Dear Doctor magazine article "Root Canal Treatment for Children's Teeth."