Posts for: May, 2015
By Richard Young, DMD, LTD
May 18, 2015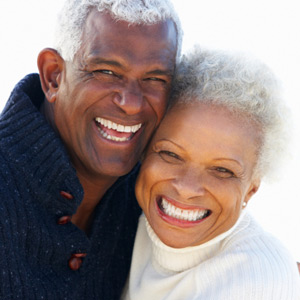 Installing dental implants involves more than the mechanics of placing them into the jawbone. Ultimate success — a natural and beautiful smile — requires painstaking attention to detail and artistry.
Here are a few of the factors we must consider to achieve a smile with dental implants you'll be proud to display.
The amount of available bone. For the permanent crown to appear natural, it's crucial to position the implant precisely. To achieve this precision requires an adequate amount of bone to be present. Unfortunately, bone loss is quite common after tooth loss; to minimize this we place bone grafts in the empty socket if at all possible after extraction to encourage bone growth. It's also possible in some cases to perform bone grafting surgery before implants to build up bone volume.
Your genetic gum tissue type. There are basically two types of gum tissue people are born with: thin or thick. Thin tissues are more subject to wear, difficult to work with during surgery and can make it difficult to hide the metal components of an implant. Thicker tissues are easier to work with, but can have a tendency to overgrow.
Achieving a natural "emergence profile." To look natural, the implant crown must appear to seamlessly emerge from the surrounding gum tissue. To achieve this, we must carefully plan and place the implant in the precise location in the bone, taking into account the implant shape and how far it should be placed within the bone to match the position and height of adjacent teeth and gum tissues.
Blending color shades with adjacent natural teeth. When it comes to color, everyone has subtle differences in tooth shades and hues. In fact, there are slight color variations within individual teeth, from the root to the tip of the crown. To make sure the implant blends in with adjacent teeth, it's important to match the color incorporated into the porcelain crown with the natural crowns beside them.
These and other factors require both technical expertise and a sense of artistry. Carefully considering all of them will help ensure your dental implants result in the smile you want.
If you would like more information on smile transformations with dental implants, please contact us or schedule an appointment for a consultation. You can also learn more about this topic by reading the Dear Doctor magazine article "Matching Teeth & Implants."
By Richard Young, DMD, LTD
May 10, 2015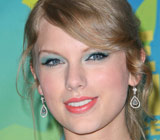 "Break a leg" is a well-known theatrical expression for wishing good luck to an actor about to go on stage. Singers should have one of their own…"Chip a tooth"! Apparently collisions between microphones and pearly whites are an occupational hazard for crooners. Taylor Swift became one of the latest casualties during a concert in Pittsburgh while belting out her hit "I Knew You Were Trouble." The consummate professional, she didn't miss a beat and kept on singing despite seeing a tooth chip hit the floor.
After all, while chipping a tooth is an inconvenience, it's not a permanent smile wrecker. Modern dentistry offers several options for restoring a damaged tooth to its original symmetry and luster, or even better!
Bonding
Dental cosmetic bonding is the quickest and lowest-cost option to repair a chip. This involves application of a composite filling material that is colored and shaped to match the original tooth. Bonding material can be used to replace the lost portion of tooth or to seamlessly reattach the lost portion if it has been preserved and is otherwise undamaged. Little to no removal of existing tooth surface is needed.
Veneers
A veneer can be used for slightly larger areas or discolored teeth. This is a thin, custom-made shell placed on the front of the tooth to give it a new "face." Some removal of existing tooth surface may be necessary to fit a veneer so it is flush with the surfaces of surrounding intact teeth.
Crowns
When a relatively large portion of the tooth is missing, a crown is often the better choice. It fully encases the visible portion of the remaining tooth above the gum line and is shaped and sized to match the original. It can be made of tooth-colored porcelain fused to metal crowns or all-ceramic (optimal for highly visible areas). A small amount of the existing tooth surface will be removed to allow the crown to fit over it.
If you would like more information about repairing a chipped tooth, please contact us or schedule an appointment for a consultation. You can also learn more about this topic by reading the Dear Doctor magazine article "Artistic Repair of Front Teeth With Composite Resin."